What Is The Best Mold Remediation Technique?
Choosing the right mold removal cleanup service is important, but it's even more vital to make sure you're choosing the best techniques. Mold can quickly spread from room to room if not taken care of properly.
For example, a common mistake is using bleach or vinegar when trying to kill the mold spores. Unfortunately, neither of these products is very effective for killing mold. The reason is that they kill the spores after the mold has already released them into the air.
To effectively remove mold from spaces, we have a myriad of options to choose from, depending on the situation. We always start with getting the air circulating properly in the space to keep mold spores from spreading and maintain high air quality.
Next, we'll isolate the area that has mold growth and cover it in plastic sheeting. This makes it easier to remove any kind of porous material like drywall without releasing spores into the air around us. If you have carpet, we can remove it entirely if necessary because removing the carpet will control moisture sources.
After all of this is completed, our technicians will use anti-microbial treatments on every surface possible to target the mold itself. Then, they'll come back later with different treatments depending on what's needed for your specific mold removal needs.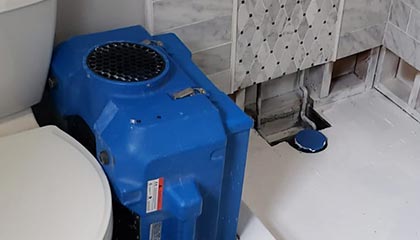 Why Choose Our Mold Removal Services?
Finding a mold cleanup service is as easy as searching; mold remediation near me right on your phone. However, when it comes down to choosing a service for this kind of work, you want to put your faith in a reputable brand that will get the job done right at reasonable mold removal cost.
We at Hippo Carpet Cleaning Rowlett do just that so you can feel comfortable knowing we'll take care of any mold problems you have!
You can trust us with your mold cleaning needs:
Experience: Our technicians carry more than 15 years of experience and are fully certified for any mold, including black mold removal in Rowlett, TX.
Insured: All work comes with insurance should anything happen while we're at your home.
Free Estimates: We offer free estimates on all services we provide!
Safety: All products we use are safe for you, your pets, and the environment.
Outstanding Customer Service: We strive to work with our clients in every way possible. No question is too small!
Mold Specialists in Rowlett, TX
Hippo Carpet Cleaning Rowlett specializes in removing indoor mold. To offer the best possible services to our customers in Rowlett, we've partnered with FDP Mold Remediation for mold removal and remediation. They make sure that even large and complicated jobs will be treated promptly and professionally.
If you need someone for black mold on walls removal or mold treatment on walls in house, with excellent results that will leave you satisfied, then look no further than Hippo Carpet Cleaning Rowlett. We offer high-quality service at an affordable price! Don't wait any longer - call us today to get started with your mold remediation!
FAQ
How much does mold cleanup cost?
The cost of mold cleanup depends on the extent of mold growth which can be minimized by ensuring mold is attacked with the help of professional mold remediation experts as soon as it shows any signs of growth. Call us and talk to our experts.
What are the signs that you need mold remediation ASAP?
If there is a musty or earthy smell in your home or offices
If you notice any growth of a slimy dark substance in your walls
If any of your family members are experiencing recurrent allergic reactions and respiratory difficulties.
Is mold remediation a safe procedure?
Our mold remediation process is safe because it is done professionally using safety gear. Our team also implements precautions to ensure mold spores do not leave the affected areas. After remediation sanitization and disinfection is done to ensure your home is not only clean but safe.
Do you use organic products for cleaning upholstery?
Yes, all our cleaning solutions use certified eco-friendly cleaning agents that are safe for residential and commercial use.