Moisture Detection to Locate Mold
Our technicians address this by first determining how much moisture you have in these areas using sophisticated testing equipment, like a mold test meter. These tests help us know how much moisture would need to be reduced, hence a healthy environment in your home.
Is Mold Testing Necessary for You?
Mold doesn't just affect your respiratory health; it can also cause noticeable damage to the value of your properties if not tested and treated in a timely fashion. Other signs that tell you need our mold testing service are as following:
The presence of any dark slimy substance on your walls, caused by an internal water leak or flood.
The presence of musty odor in any part of your living space.
Let's suppose you've noticed any of the above or suspect you have a leakage and would like to get ahead of it; in that case, you need appropriate mold testing services from an efficient company in Rowlett, Texas, like Hippo Carpet Cleaning Rowlett. Our group of experts prioritizes your safety when carrying out testing.
We understand that you need reliable information when it comes to mold, so we apply our expertise to make sure you have results you can rely on.
Why Choose Our Mold Testing Service?
Black mold testing companies are very common in Texas, so selecting one should ideally be easy, but it's not. It would be best to consider several factors like cost, experience, and safety, and Hippo Carpet Cleaning Rowlett meets all these requirements and more.
Insured: We take the promise of your safety seriously; all our work is insured to cover for any unforeseen situation while we're in your home.
Experience: Boasting over 15 years of work experience in providing excellent mold testing services; our technicians are capable of handling any mold related problem.
At Hippo Carpet Cleaning Rowlett, our top priority is helping you detect the presence of indoor mold. After we go over the mold testing results with you, we will explain what will be required to get rid of the mold and prevent regrowth.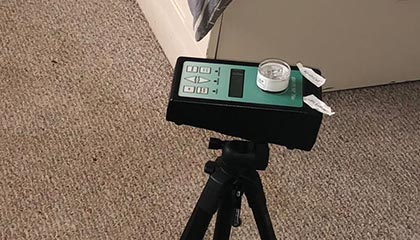 Our Techniques and Mode of Operation
Every mold testing service we perform starts with a discussion with the customers about their concerns and what they have noticed that leads them to believe there is indoor mold growth.
A mold visual inspection is conducted in the areas of concern, especially in areas with signs of past or present water damage. If desired, or if there are no visual signs of mold growth, we collect air samples or surface samples which are delivered for analysis at an accredited independent testing laboratory. These quantitative results can show definitively whether there is a mold problem in the property.
Based on the findings of the inspection and testing, our mold experts will create a mold remediation protocol to address the mold issues and prevent them from recurring in the future.
Call Us Today!
You can be confident in the reliability of the results you will receive from Hippo Carpet Cleaning Rowlett. We work together with O2 Mold Testing to make sure that our customers have the high quality mold testing results they need, with better availability for all our customers.
If you require mold testing services in Rowlett, Texas, don't hesitate to call us now at 469-745-0227. Please feel free to ask us for more information on our services. Call us today to request a free estimate, and you can be on your way to achieving a clean and healthy home.