Why Choose Hippo Carpet Cleaning Rowlett's Services
Our business is one of a kind in the industry, offering rug cleaning in Rowlett, TX. With our professional rug cleaning service, you can expect the best results. The following are some of the ways we make our customers very happy:
The Effective and Protective: Up-to-date Rug Cleaning Technologies
At Hippo Carpet Cleaning Rowlett, we use the most advanced area rug cleaning technology. We choose the best way to clean a rug without weakening the fabrics. We have different rug cleaning methods for cleaning all types of rugs, depending on the material.
Our rug cleaning service may involve the use of one or more of the following methods:
Vacuuming - the initial step for removing dust particles, pet hair, loose dirt, and other debris
Deep cleaning
Hot water or steam cleaning
With our best rug cleaners, you can expect the process to be carried out professionally and effectively. Sanitization and deodorization follow to destroy bacteria, fungi, and molds. That also gives your rugs a sweet smell. As our client, you get great value for your money.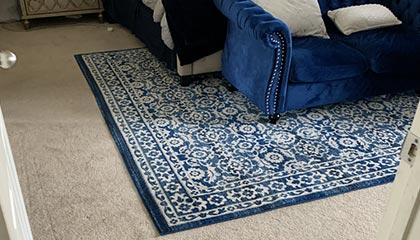 Best Way to Clean a Rug
Whether you need an area rug, fringing, or oriental rug cleaning, we know how best to handle it. With our advanced machines and steam cleaning approach, no rug is too stained or dusty for us to clean. Steam or hot cleaning involves using hot water under high pressure to dislodge the stains and dirt, including ones trapped between the fabrics.
Vacuuming is also done once more to extract the hot water from the rugs. This process makes the area rugs dry faster, preventing bacterial and fungal growth.
Oriental Rugs and Area Rugs: The Differences in Cleaning Process
The rug cleaning method deployed depends on the type of rug and its condition. Our team usually inspects your rug and agrees on the best way to clean it. That is the same when we have to compare oriental rug and area rug cleaning.
Oriental Rug Cleaning
Oriental rugs are a unique hand-woven statement piece usually made from natural wool. They also feature a one-of-a-kind design, making it challenging to maintain its pristine condition. But you have nothing to worry about if you use our professional rug cleaning service.
Our experienced staff uses extra care when cleaning oriental rugs to prevent damage to the fabrics.
Area Rug Cleaning
The best way to clean an area rug is to vacuum it first to remove all loose debris and dust particles. What follows is deep cleaning, which involves the application of rug shampoo and scrubbing. It is also possible to steam clean area rugs.
Call Hippo Carpet Cleaning Rowlett for Rug Cleaning
Do not hesitate to call us if you need rug cleaning in Rowlett, TX. We are always at your service if you need reliable rug cleaning to make your rugs look as clean as new, and with the following benefits:
Fast turnaround time
Guaranteed results
Rug cleaning for all types of rugs
State-of-the-art rug cleaning process
Affordable oriental and area rug cleaning services.